Seen in a Public School Classroom
Posted on September 24, 2007 in Agnosticism Humor?
You never know what will appear to set off your atheist parent: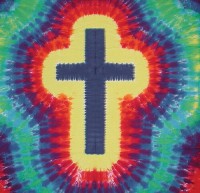 If anyone else had me in view, they'd have surely assumed I'd suffered a small but effective stroke. I was completely frozen and trying to stay that way. Time stopped, looked at me funny, then continued on its way. I knew that if I came to, I'd leap onto a chair and point and squeal "CROSS! CRAWWWWWWSSSSS!!" I'd have no choice: the point-and-shriek is mandated for all encounters with crosses in the by-laws of the Atheist-Vampire Accords of 1294.
Read the whole story at the Meming of Life.