Wine Dark Clouds
Posted on October 21, 2007 in Santiago Fire
"Not only is it a strong event, it's one of the strongest events you'll get any Santa Ana season," said Ken Clark, a Rancho Cucamonga-based senior meteorologist for Accuweather.com. "And the strongest winds have not occurred yet."

Wine-dark clouds roil across the sky about five to six miles west of us. The conflagration hasn't yet made any of the news services — it's new. About an hour ago, I told my friend L that all we needed was a careless biker from Cook's Corner with a cigarette to create problems in this wind — which forecasters now say will flagellate us until Tuesday when the high is going to be 95 degrees (35 for the Celsius crowd). Checking the house — where are the cat carriers, the meds, etc. Thinking about packing bags just in case the winds make a dramatic, ninety degree turn. Scared.
UPDATE: The fire is where I said it was, burping out of the throat of Silverado Canyon where it intersects with Santiago Canyon — way too close for comfort.
UPDATE: The fire is about a mile and a half south of where it was previously thought, at the Tomato Springs just north of the City of Irvine and the old El Toro Marine Corp Air Station. Looks okay for us, but bad for Irvine. Took the following picture from Concourse Park: there's five miles or so of foothills between us and the blaze which silhouettes Dreaded Hill. Kids were excited and hoping for it to burn closer. Adults, needless to say, didn't have the same wish.
Sniffing the wind from time to time for traces of smoke. Weather report says that tomorrow is going to be the worst day for winds: in the mid-nineties on Tuesday.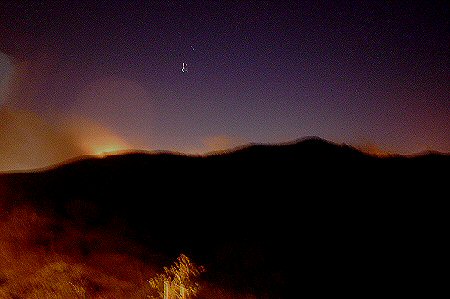 I will keep Twittering.