Posted on July 19, 2015 in Bipolar Disorder Hope and Joy Psycho-bunk Stigma
Let us realize that for every poem, there are many long dark nights of the soul that the sufferer would prefer to be without.
Posted on March 5, 2015 in Addictions Anger Frustration Mania Netiots

Difficult to end when I am feeling stable but energized and impossible when I am manic, InterNet disputes are a drug of choice for me. I just ended an exchange that went on for over an hour with someone on Facebook. She would not stop and neither would I. It seemed to me that no matter what I said to refute her, she kept repeating the same thing over and over. My ire was up: I had a defense to make and, equally important, someone to skewer. Then in the middle of it, I realized that I had become a Facebook Mr. Hyde, shared one last anecdote, and announced the end of my participation. Others have responded to the thread since then and I have not read what they said. Whether they indict me or stand up for me, I shall not involve myself anymore.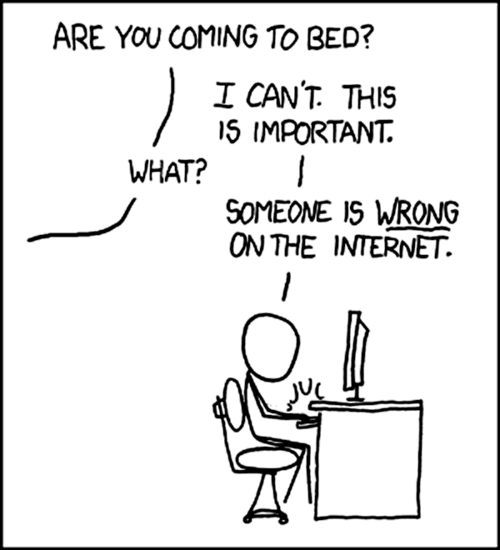 Long ago — on the abUSENET, I learned that it was a waste of time arguing against the trolls and cranks of the Net. If I spent a long time preparing an intelligent rebuttal to something they said, they'd dismiss it with a brute-force remark or lame witticism. Some even went so far as to create robots that would repeat the same argument every time certain key words appeared anywhere in the newsgroups. You could easily exhaust yourself fighting these. I gave it up for the Web because I realized that the newsgroups were a waste of time.